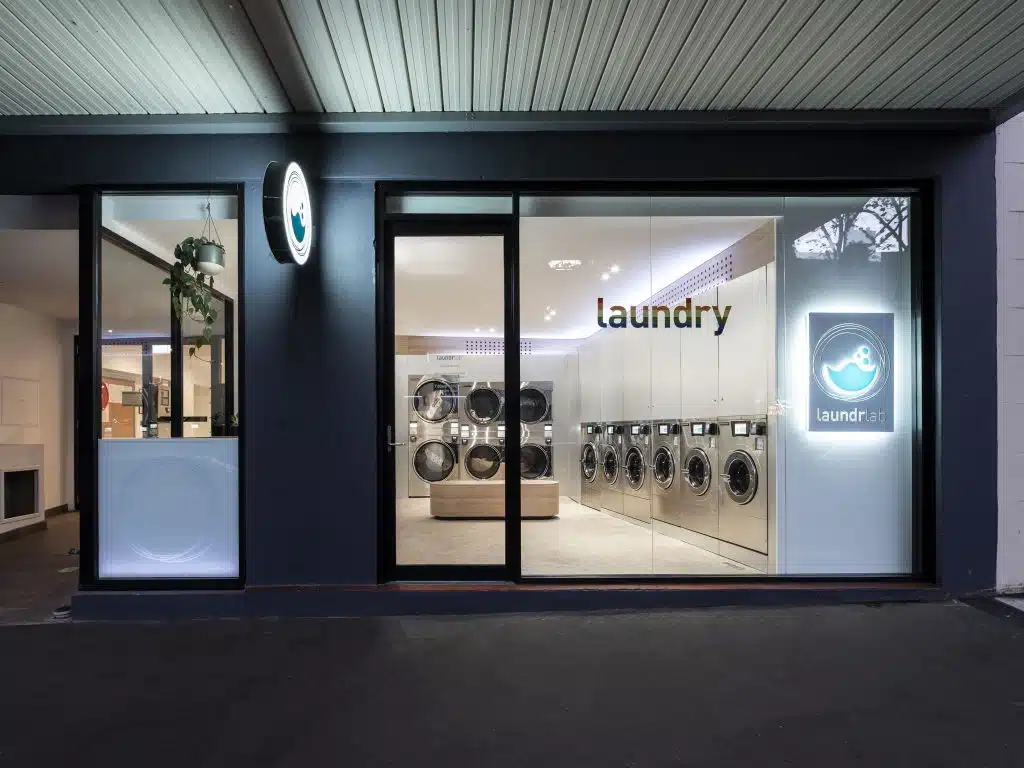 Laundrlab Potts Point
Convenient location, moments away from Kings Cross station.
Super-fast modern washers & dryers.
Comfortable & always clean – our location has free wifi, filtered water and plenty of seating.
Street Parking
1hr free street parking available along Victoria Street.
Public Transport

Information
Train Services
Our laundromat is less than a 1 minute walk from Kings Cross Station, take the Victoria St exit.
Potts Point, Sydney is a historic, artistic neighbourhood near Kings Cross, offering beautiful waterfront views.
Once frequented by famous figures like The Beatles and Prime Minister Paul Keating, it's now a friendly, close-knit community with a blend of old-style prestige and modern vibes.
Named after Joseph Hyde Potts, it boasts art deco architecture and rich history.
Things to do

while waiting for your Laundry
Potts Point has some excellent cafes like Pina, Room Ten, Tuyo, and Primary Coffee Roasters.
Explore the historic McElhone Stairs and other heritage-listed staircases connecting Victoria Street to Woolloomooloo. Victoria Street, with its 19th-century terraces and London Plane trees, is a must-see.
Why people are
switching to laundrlab
Convenient Open Hours
We're open between 6am – 11pm everyday.
Cashless Payments
cashless payment via our easy to use mobile app. We also accept tap to pay credit/debit cards.
Live machine status
Our Smart Washers & Dryers let you monitor the status of your cycles remotely through our mobile app.
comfortable + free WiFi
Our laundromat has ample seating, complimentary Wi-Fi, charging ports for laptops/phones and filtered water.
complimentary detergent
premium hypoallergenic & eco-friendly detergent at no additional cost added directly to your wash.
checkout our
recent reviews
See why Potts Point locals are choosing Laundrlab as their self-service laundromat.
Frequently asked
questions
What forms of payment do you accept?
We are a cashless premium self-service laundromat. We do accept credit and debit cards, mobile payments, and in app payments.

How much does it cost to use your machines?
Please visit our pricing page. We have a range of small to extra large washers and dryers to suit all of your laundry needs, and our eco-friendly detergent is included in our pricing, and dispenses automatically.

Is laundrlab Potts Point open on public holidays?
Yes, our self-service laundry is open 365 days a year.
How long does it take to wash and dry a load of laundry?
Located in Pott's Point, our state-of-the-art laundrette boasts the latest Speed Queen washers and dryers, setting us apart as one of the most efficient laundry facilities in Sydney! Experience swift washing cycles, ranging from 24 to 28 minutes, depending on the selected cycle. Additionally, our drying process completes in just 36 minutes, ensuring quick and thorough laundry care.
Do you offer free WiFi?
Yes. Login details can be found above the seating area at our Bondi laundromat.
Get started, join our loyalty program
Elevate your laundry experience - our locations use the most advanced Speed Queen washers and dryers, seamlessly synched with the Speed Queen mobile app.
Live Machine Status & laundry notifications.
Once you've completed $80 worth of washes or dries, you'll receive $8 back in your account on us!
contactless convenient payment, right from the app.
Join for free